You are here: Janmesh.net > Hardware certification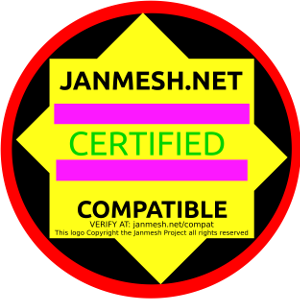 This logo © 2019 The Janmesh Project. Any reuse, printing, display is strictly forbidden without prior written consent from the Janmesh.net project.
Janmesh.net hardware certification program
Are you IT devices manufacturer, computer shop owner, or does your business involve in any way building electronic devices and selling them to consummers?

Don't miss an opportunity
Don't miss an opportunity to become a Janmesh.net certified partner with the Janmesh.net certification program.
Proudly display our "certified hardware" logo
Build a Janmesh-enabled computer or device and pass our certification program to be allowed to display our "certified hardware" logo.
Why should you do this?
By displaying our logo you will make your customers confident, being sure that what they buy from you is fully tested and compatible with the Janmesh.net network.
How does the certification program works?
Your electronic product should, either, operate the CoOoOw stack, or, at the very least, Cjdns.
You'll have to provide us
The full specification of your device, for hardware as well as software
One example prototype that we can use to perform the different testing steps to make sure it is well-designed and fully compatible with Janmesh.net
Sounds interesting?
Then don't wait and contact janmesh@janmesh.net today!

This page was last updated on Oct, 22 2019. © 2019-now the Janmesh Project